Conference summary
On November 18, we participated in the "Brazil-Japan Open Innovation Meeting" sponsored by the Innovation Research Society, which I also serve as an executive committee. This is the 4th meeting this year following the event at KPMG & Distrito Leap last month. With the cooperation of leading startup companies, accelerators / VCs, it was a great opportunity to get tips and connections for collaboration between venture and large companies. Approximately 100 participants listened enthusiastically to each company's presentations and panel discussions.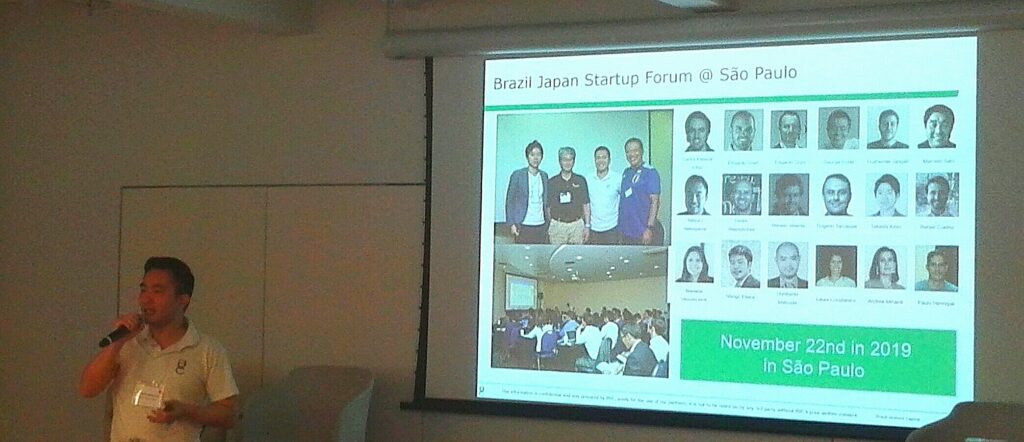 Presentation by Brazil Venture Capital
In our presentation, we argued progress of Brazil Venture Capital, examples of initiatives in agritech with ARPAC and Agricultural Information Design, as well as the "Brazil Japan Agri-business Forum" in Japan next February, and "Brazil Japan Startup Forum 2019″ in Sao Paulo this Friday.
Key takeaways from three companies
While the every presentations and panel discussions were informative, we would review the key takeaways from the following three companies.
1. Softbank Vision Fund
Softbank is on a hot topic for the launch of a US$5B Latin American fund. "The Latin American market has more than twice the GDP of India, but the amount of investment from VC remains at about 4% of that," the representative expressed expectations for growth in the market with comments like this. Speaking of Softbank, large-scale investments of US$100M for South American startups tend to attract attention, but they are also investing in early-stage for US$300M through VCs. The objectives seems "joining small markets with different cost structures", "keeping up with South Korea and China", and "strengthening network with Latin American countries in favor of tax incentives for venture companies." From these strategies, again, we can read the solid potential of the South American market.
In the small chat with the person in charge, we found that although there were a lot of issues, such as the recent huge loss settlement of "Makka-kka" (meaning an awful situation in Japanese) by the Softbank Group and the reconstruction of We Work, there seems to be no noticeable change in the investment strategy in South America at the moment.
* Click here for more information on Softbank's South American and Brazil investment strategies (in Japanese)
2. SP Ventures
Mr. Francisco Jardim, who will be presenting at our startup forum scheduled for this Friday in Sao Paulo, talked about Agritech's sustainability and its high resistance to macro-factor fluctuations.
The impressive word was "Willingness to get feet dirty".
Can it be rephrased as "hands-on principle"? In fact, he is responsible for 34 technology venture investments, more than 20 management committees, as well as directors of agritech companies such as IoT, satellite imaging, cloud computing, marketplace, livestock management, livestock breeding and blockchain etc.. SP Ventures and Jardim's honest attitudes to commit to venture development once again made them respectable.
3. Checklist Fácil
Checklist Fácil is the venture from Florianopolis that provides electronic checklist solutions for corporate operations. In case of introductions at Toyota's Brazil and Mexico plants, while integrating with its existing ERP system, approximately 70K paper-based management was reduced per month and productivity was improved.
Partnerships and success stories with companies that are proud of global production system, such as Toyota, are valuable "Osumi Tsuki" (meaning a certificate or positive reputation in Japanese) for Checklis Fácil and it could be expected that the company expand its business more in the future. As an implication to the marketing strategy, in any industries, identifying and approaching influencer/hub customers may be more effective to generate long-term profits rather than simply selling to many customers.
In addition, we found that when Brazilian startups provide services to Japanese companies (and foreign companies), one of the challenges was to respond to client-side's compliance appropriately.
—An Important Invitation—
On Friday, November 22, the 2nd Brazil Japan Startup Forum 2019 will be held in Sao Paulo.
This is a valuable opportunity to get close to the various startups and businesses featured in Brazil and Japan.
Please do not miss it!