The 2nd "Brazil Japan Startup Forum 2019" was on November 22nd.
We sincerely appreciate all of guest speakers, participants and supporters.
Thanks for joining us!
Japanese guest speakers and Mitsuru Nakayama / Brazil Venture Capital (left)
In this blog, we will review each session by 18 speakers in the series.
In this first installment, we describe the overview of forum and the session by Brazil Venture Capital.
1. Forum overview
Held at Innovabra Habitat in the city of Sao Paulo, it was a beneficial meeting with a total of 70 people from Brazil and Japan. As shown in the program below, we invited 18 guests from Brazilian/Japanese startups and venture capitals.
This year, following the first forum in 2018, we would not only deepen our understanding of both Japan and Brazil's startup ecosystem, but also discuss the pitches of Japanese startups and their entry models into the Brazilian market, and the pitches of Brazilian startups. We planned contents that more closely approached the notable businesses.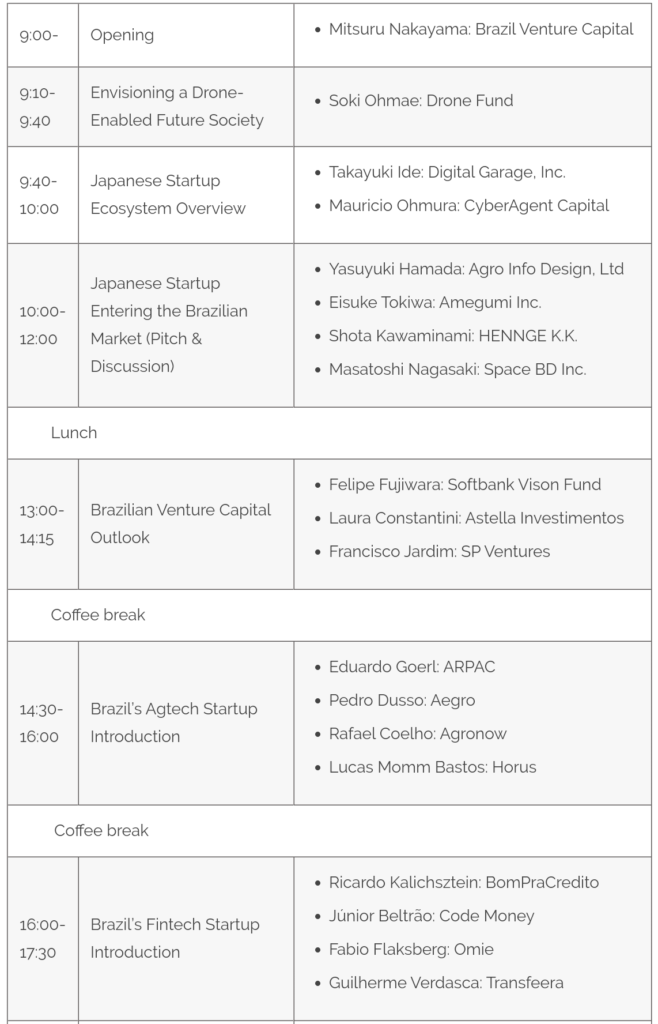 Program of the day (partially changed)
2. Opening Remarks by Brazil Venture Capital / Mitsuru Nakayama
We summarized 12 unicorns born in Brazil over the past two years, Brazilian market potential (e.g. GDP growth rate in 2016-2050 is 5.1x in Brazil vs 1.6x in Japan), and startup ecosystem development, etc..
Opening Remarks by Brazil Venture Capital / Mitsuru Nakayama
In our session, what attracted particular attention was the case in which the Japanese Drone Fund invested in ARPAC, the agricultural drone venture in Brazil, following the networking at our Brazil Japan Startup Forum 2018.
* Click here for articles about investing in ARPAC by Drone Fund (Japanese)
We would hope that this year's forum will also serve as a "wake-up call" for your future business development.
See you in the next series!