News summary
Softbank accelerates in Latam.
Ualá, an Argentine startup of personal finance management app, has raised a US$150M for Series-C led by SoftBank's Latin America-focused Innovation Fund and Tencent.
(Reference: Tech Crunch's article on 25 Nov. 2019)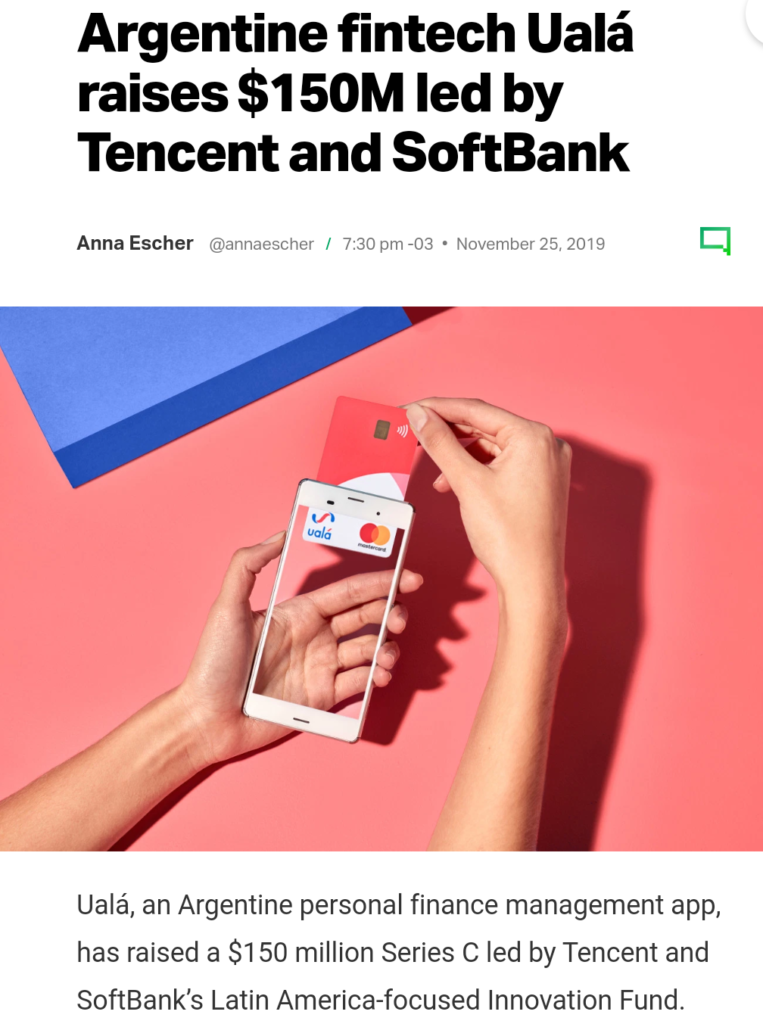 Who is Ualá?
Ualá is the startup that provides a mobile banking app and lending platform with services similar to those of Revolut, Monzo and Nubank. However Ualá has no orientation to actually become a bank itself.
Founder and CEO Pierpaolo Barbieri, a Buenos Aires native and Harvard University graduate, says his ambition was to create a platform that would bring all financial services into one app linked to one card. As it exists now, Ualá is linked to a prepaid, global Mastercard and allows users to transfer money, invest in mutual funds, request loans, pay bills and top-up prepaid services.
Signal of Softbank's entry in Argentina, even in whole Latam?
As we wrote on its US$140M investment in VTEX in Brazil just last day, SoftBank has rapidly deployed its Latin America-focused Innovation Fund.
And Ualá's Series-C seems a clear signal of SoftBank's entry into Argentina. While Argentina is well known developer talent and high entrepreneurial spirit, the country has remained under-capitalized.
Then this investment could illustrate the Softbank's positive expectation not only in Brazil but also in whole Latin American markets.
Growth in uncertain Argentine market
Even though Argentina is in a presidential leadership shift and in US$330B debt uncertainty, personal mobile banking services like Ualá that promote a financial system are convincing investors with their growth potential.