The forum newsletter vol.1 features the whole picture of the forum and Opening Remarks by Brazil Venture Capital.

From vol.2 onwards, we will provide a series of 18 sessions.

This time is for the Agritech's session by Mr. Hamada, Agri Info Design!
Agritech session by Mr. Hamada, Founder/CEO of Agri Info Design, Ltd.
Company overview "Supporting the Agricultural Field with IT"
Agri Info Design (AID) was founded in April 2014. In addition to developing and consulting software related to computerization and automation of agricultural machinery for companies and organizations, we also provide farmers with IT systems useful for agricultural work. The headquarters is located in Obihiro city in Tokachi region, where the agricultural industry is particularly popular in Hokkaido. He decided to set up his founding place here because he wanted to support farmers in the closest place. Investors include Sumitomo Corporation, and drone funds and DG Incubation, which have also appeared on the forums.
Story to enter Brazilian market
Brazil, Spain, the United States, Poland, and Ukraine were the most common overseas countries where AgriBus-Navi, AID's core product, was downloaded. At that time, Brazil had the world's highest download count with 20,000 downloads (20% of the total). Mr. Hamada says that he originally had the problem that Japan's agricultural market was limited due to the constraints of agricultural land and human resources, and that overseas was a field that should emerge. I was feeling the response to overseas expansion before my app was widely used overseas.
Mr. Hamada met Brazilian venture capital representative Nakayama at an event in 2018. In June of this year, I visited Brazil for the first time and participated in an agrishow. During the period, we had the opportunity to hear from real users of AgriBus-Navi, and at the exhibition, we also had contact with business stakeholders who knew the app.
For example, a local company that has been developing hardware, but had a problem with the software used in combination with it, said that AID said that combining both technologies could contribute to improving farmers' productivity at low cost. Interest in the company's solution. A collaboration has also been decided to integrate the tractor operation information collected from Agribus-Navi into the Agritech platform in Brazil, which centralizes and displays information used for farmer management decisions.
What is AgriBus-NAVI? Simple and low-cost tractor driving support app!
AgriBus-Navi was born out of applying drone autonomous driving technology. This is an application for Android that supports accurate tractor driving, and is a system that provides GPS guidance using a smartphone or tablet as a monitor screen.
By running straight and at equal intervals with GPS guidance, we can improve the efficiency of all agricultural work scenes. In addition, AgriBus-Web automatically records operation data such as running speed, farm height difference, drainage, etc. from the AgriBus-NAVI app, and creates field areas using satellite photos and 3D display, cropping records, etc. Can be managed. The feature is that it does not require the purchase of a large monitor, so the cost can be greatly reduced compared to the conventional GPS guidance service.
AgriBus-Navi is available for free download from Google Play. Four years after the launch of the app, it has recorded 200,000 downloads in 140 countries around the world, and the number of downloads in Brazil is rapidly increasing to about 100,000. Of these, downloads from within Japan account for less than about 4% of the total.
10% profitability improvement by "straight running"
According to USDA statistics, about 70% of US farmers have an operating margin of less than 10%. Managing material costs is a major issue, but it seems that running a tractor straight can reduce, for example, 5 to 10% of input materials. Improving the profitability of farmers in this way is likely to lead to younger farmers as an attractive industry in terms of profitability.
Development of high-performance GPS that meets the needs of automation and low cost
We have also developed AgriBus-G2, a high-performance GPS device that can recognize centimeters. By installing two GNSS modules, the correct azimuth is detected, and the display is not disturbed when moving forward or backward or working at low speed. In addition, multiple interfaces are installed, and automatic control works. The price is cheaper than the same model at US$3,000, and a new US$700 AgriBus-GMiniR will be released soon.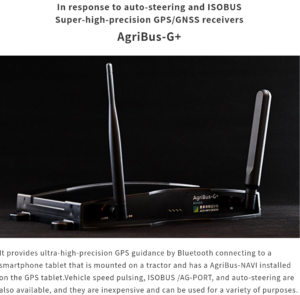 AgriBus-G2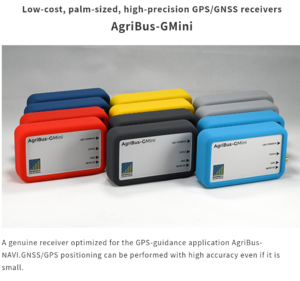 AgriBus-GMini
Future policy: Supporting "PDCA cycle's D" in agriculture
As a future policy, Hamada stated, "we would like to provide on-the-field support, not a total solution for agricultural management." "The role of AID is to support the D of the PDCA cycle in agriculture. For example, storing and providing field data as a Dropbox instead of an Office Suite." He also showed such thoughts.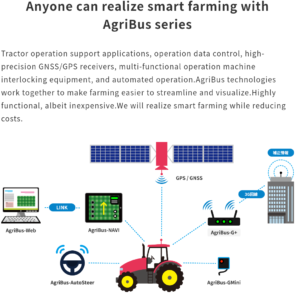 Thank you for your insightful presentation!!