The forum newsletter vol.1 featured the whole picture of the forum and Opening Remarks by Brazil Venture Capital.

From vol.2 onwards, we will provide a series of 18 sessions.

This is a session of Agritech in Brazil by ARPAC (startup of agricultural drone) Eduardo Goerl!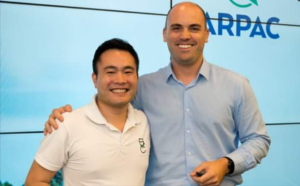 Agritech session by Mr. Eduardo Goerl of ARPAC
Company profile "Optimizing agriculture with drones"
ARPAC was founded in 2016 to solve pain points such as the inefficiency of pesticide spraying. The company owns the hardware (drone) as well as the software (drone flight control system) and the framework (software core code). They provide services to global companies such as BASF, Coopercitrus, Raízen, and Syngenta with a drone-operating hectare billing system. Investors include chemical giant BASF, we Brazil Venture Capital, and Drone Fund that have also appeared on the forums.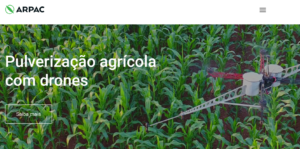 Advantages of spraying pesticides by drone | Spraying in spots, sloping lands, and beneficial insects
In Brazil, where the agricultural land is vast, large-scale farming is in progress, and spraying pesticides by air is common. Naturally, large-scale pesticide spraying using tractors is also performed. There are several patterns in which drone pesticide application can be effective, but ARPAC is currently focusing on "spot application", "slope application" and "mass insect application".
For example, in a sugarcane field, weeds grow at the level of "trees" and become an obstacle during harvesting. They want to spray pesticides on this weed, but they can't do pinpoint sniper spraying on an airplane. In the past, sugarcane was 3 meters tall, relying on human power. It's inefficient and you run the risk of encountering cobras and wild boars along the way. With a drone, you only need to map multiple scatter points on the map and the autopilot will scatter them sequentially.
Coffee farmland is a slope like a Japanese tea plantation. Because airplanes fly horizontally with the ground, the concentration of the spray at the top and bottom of the mountain is different, so spraying pesticides is limited. They are also smaller than fields such as sugarcane and soybeans, which also rely on manual spraying. Here too, drone can be sprayed finely, and a significant improvement in efficiency can be seen.
The last example is the application of beneficial insects. Research is also active in Brazil to reduce chemical pesticides. For this reason, they would like to spray eggs of beneficial insects to control pests, but this is also difficult to spray because it flies by wind in an airplane. Being able to fly as low as a drone allows for effective spraying.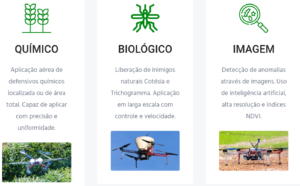 ARPAC's Competitive Advantage | Customer support and engineering
It is common knowledge in the industry that China is the most advanced country for drones customer support and engineering capabilities drones. Brazil also has many Chinese drones. However, there is almost no customer support system for Brazil. They do not have a representative in Brazil, which is a minor and distant market for Chinese drone manufacturers, and we have heard that local agents will not be able to respond to customer complaints at the Chinese headquarters. Also, it is relatively easy to fly a drone, but when it comes to spraying pesticides or beneficial insects, Chinese manufacturers do not develop applicators such as sprayers for spraying. For the spraying operation, the optimal mix of battery and pesticide due to the total weight limit, in other words, the operational efficiency such as adapting the flight time, flight distance and the optimal value of the sprayed pesticide to the situation is very important. Few companies in Brazil have a support system and engineering capabilities that can provide such a detailed response for each customer. In fact, there are many consultations under the ARPAC saying, "I bought a Chinese drone but I'm having trouble flying it."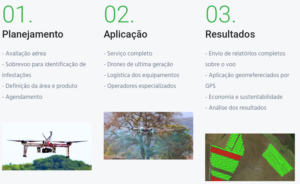 Strategy for future
KPI regarding drones' operating area was ​​500 hectares/week between 2018 and 2019. It is said that the forecast is 3,300 ha in 2019-2020 and 99,000 ha in the future. Goerl stated, "We will focus on five major agricultur cities in 2019-2020 to improve operations and financial aspects. Then in 2020-2021, we will develop franchise model and heavier drone."
Thank you for your valuable and valuable stories!