Loft becomes the 11th Brazilian unicorn – and the first in the construtech market. The others are 99, Nubank, Arco Education, Movile (iFood), Stone, Gympass, Loggi, QuintoAndar, Ebanx and Wildlife.
Loft founded in 2018 received US$175M, round led by funds Andreessen Horowitz, Fifth Wall Ventures and Vulcan Capital.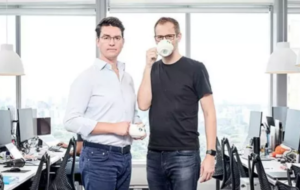 Florian Hagenbuch, 32, and Mate Pencz, 33, founders of Loft, Brazil's newest unicorn
Brazil wins the first unicorn of 2020 – and the fastest in the country's history. It is Loft, a real estate startup that, after receiving US$175M investment from Andreessen Horowitz, Fifth Wall Ventures and Vulcan Capital, reached a market capitalization of US$1B, with just 16 months to go. operation.
Founded in August 2018 by German Florian Hagenbuch, 32, and Hungarian Mate Pencz, 33, Loft buys used apartments, renovates with partner contractors and resells for up to 45% more than the original price. The startup is the second venture of foreigners in Brazil. In 2012, they had founded the online print shop Printi – sold in 2017.
At first, Loft operated real estate in luxurious neighborhoods of the state capital – properties worth about US$1M, in noble neighborhoods such as Jardim America, Jardim Paulista, Itaim Bibi and Vila Nova Conceição in Sao Paulo. "The startup's strategy was, first and foremost, to establish our brand in one region to demonstrate that our model worked end to end, even in such a complex market," says Mate Pencz.
Currently, the company is in 16 neighborhoods in São Paulo and sells properties of different sizes and categories – including even apartments of 25 square meters, for US$300K.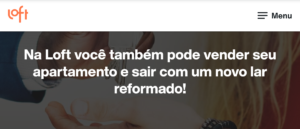 Loft's website
The US$175M fund will fuel Pencz and Hagenbuch's expansion plans. In São Paulo, the startup plans to reach regions such as Bela Vista and Zona Leste. In addition, Loft wants to take its operation to other capitals, such as Belo Horizonte, Brasilia, Curitiba, Porto Alegre and Rio de Janeiro. In the first half of 2020, it will begin its first international onslaught in Mexico City.
The funds will also be used to drive the commercialization of the company's extra products. For property sellers, Loft offers the anticipation of selling part of the property; For buyers, different financing options are suggested.
Rafael Costa, a partner at Vulcan Capital responsible for negotiating with the startup, says the interest in the founders' work comes from their work at Printi. For the investor, the analysis weighed on the international formation and local expertise of the partners. "They have undertaken before and had a successful exit. The two unite a global vision with a Brazilian executing power. "
Source: https://epocanegocios.globo.com/Empresa/noticia/2020/01/exclusivo-apos-novo-aporte-loft-se-torna-11-unicornio-brasileiro-e-o-mais-rapido-da-historia-do-pais.html