In the forum review vol.1, we took up the whole picture of the forum and opening remarks by Brazil Venture Capital. After vol.2, we would deliver all 18 sessions in a series. This time, "Brazilian Venture Capital Outlook" by Softbank Felipe Fujiwara!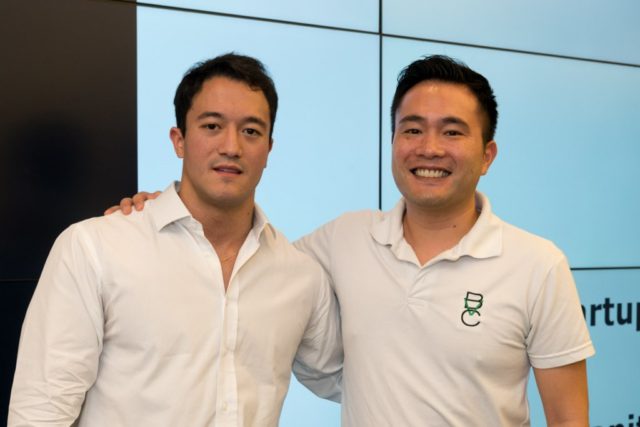 Felipe Fujiwara, Softbank (Left) and Mitsuru Nakayama, Brazil Venture Capital
Session Summary
Speaking of Softbank, at the end of last year, the company announced its large-scale investments in Brazil and Argentina. In addition, it has had an impact on global markets such as the establishment of a South American-specific fund for US$5B, the group's "straight financial results", and the Wework issue. In this session, Fujiwara, vice president of softbank group and who has a background in startup and venture capital, He talked about the outlook for the Brazilian and South American markets and their strategy.
A relatively Large Investment Strategy in South America
As a basic investment policy, they would invest in a range of approximately US$30-100M based on our own in-detail analysis of technology-related technologies that are expected to grow at high growth. In Brazil, for example, we invested in 99 (Novinovi), which became a unicorn in mobility. SoftBank's South American division is independent of the Japanese group and has three teams to invest through the process of selecting, analyzing and approving investments. Based in Miami and Sao Paulo, they have a system that allows us to understand the local situation in other key cities such as Mexico and Argentina. Andre Maciel will represent the Brazilian division. Although the group's overall return target sit-ins, the allocation of specific resources and investment decisions will be taken into account in the local situation.
Investing in Differentiated Technologies and Synergies in Portfolio
When choosing an investment destination, it seems to be one of criteria whether the automation technology of the company is differentiated from other companies. Now, they are looking to invest in startups that provide unique technologies for data processing and analytics. In addition, the current portfolio focuses on investments in fintech and sharing economies, but he also said that they would like to focus on other areas such as healthcare and agritech. As for the scale, it is US$30M as well as the basic policy, and it aims at the unicorn making within five years. SoftBank is also focused on start-ups that are in maturity. This enables us to create synergies between companies in our portfolio and increase business value efficiently, rather than individually supporting the construction of our investment business from scratch.
The session of「Brazilian Venture Capital Outlook」 by Felipe Fujiwara, Softbank
Oyo and the Case of Business Development in Brazil
SoftBank also invests in Indian hotel unicorn OYO, which also operates in Brazil. About 85% of brazil's hotel market is run by small owners who are not chains, and capital investment to meet building standards was also a major burden. With the advent of OYO, the utilization rate seems to have improved from 20 to 30 to about 80%. OYO reported a net loss of 360 billion yen in the last fiscal year (ft. 27, 2019), and although it is developing in the Japanese market, it is believed that there are similar hotel issues in other South American countries other than Brazil. There may be opportunities to enter the business. The SoftBank Group also hopes to promote its expansion into the South American market for companies outside of South America. Tech Campus from a global perspective also organizes issues such as whether to invest directly in South America, to dispatch human resources, and to partner with local companies. Taking OYO as an example, the company is an Indian company, but in Brazil, Brazilians represent it because they have a better understanding of the local language, market and culture. In the case of Japanese companies, many of them send managers from Japan, but they are not well versed in local affairs and cost ly enough, resulting in a number of cases where cost-effectiveness is not increased.
Image of OYO Hotel
Expansion of Brazil business into Japan and other countries
Taking Gympass as an example, he said, there is also room for successful businesses in Brazil to grow globally in Other Countries. For example, fitness-related categories of "health" have universal needs, and it seems to be easy to expand horizontally. In addition, as ARPAC has received funding from Japanese drone funds, it is expected that Brazilian startups will expand into Japan and other countries in the agritech field, which boasts some of the world's most technological capabilities.
Image of Gympass
Early Stage Enclosure by LP Investment
In South America, we are also investing in LPs worth US$300M through VCs. "Valuations are already more than double," said a representative of softbank Brazil. The main aim is to surround early stage and small-scale ventures, and the portfolio is expected to become more diversified in the future.
Careful attitude to the feeling of overheating
The startup market in South America and Brazil, which has grown rapidly in recent years, has also accelerated its investment activities, while softbank has also shown a cautious attitude toward overheating, saying that "a sharp plunge is inevitable after the surge." We will continue to focus on softbank trends, whether it will be the driving force behind the startup ecosystem in South America.
Introduction of Felipe Fujiwara
Vice President of softbank group. He worked for five years in J.P. Morgan's Latin America Advisory Division in sectors such as FIG, TMT, Healthcare, Conglomerate, Consumer & Retail, and Real Estate. He has been involved in more than 20 projects, including Stone's private placement (2017) and Telefonica's acquisition of GVT in 2015. He later founded Monet, a fintech company that provides credit solutions to small and medium-sized businesses. Prior to joining SoftBank, he worked at 30Knots Capital, which specializes in late-stage investments for listed and listed companies in Latin America. He holds a bachelor's degree in industrial engineering from the University of Sao Paulo. CFA (2015). He is fluent in Portuguese and English.