In the forum review vol.1, we took up the whole picture of the forum and opening remarks by Brazil Venture Capital. After vol.2, we will deliver all 18 sessions in a series. This time, we'd like to introduce a session of "Agritech in Brazil" by Pedro Dusso of Aegro.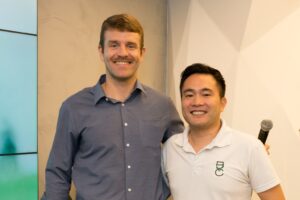 Aegro – Pedro Dusso (left) and Brazil Venture Capital – Mitsuru Nakayama
Session Summary
In the past forum, we have introduced sessions with ARPAC and HORUS, which lead the Brazilian agritech market with agricultural drones.
In this article, Pedro Dusso, president of Aegro, which supports the resolution of agricultural issues from the production and financial management aspects of Agritech, talked about the company's positioning, performance, and future prospects.
Company Profile
Founded in Porto Alegre, southern Brazil in 2014, Aegro is a start-up that develops software to help efficient agricultural management. Specifically, we provide bulk management tools such as production, finance, and sales in agriculture, based on SaaS. Ceo Dusso majored in computer engineering in Germany and has experience in agritech business development, and has a high insight into this field. It is also an investment destination for
SP Ventures, which we introduced in my recent blog
, and is part of the company's mission to "combine the strengths of companies in our portfolio to realize smart agriculture."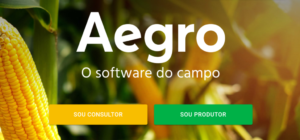 Aegro Website
Problems of Agricultural Management Today
Due to the lack of a centralized management system for small and medium-sized farmers, each farmer could manage based on "senses", use software specialized in accounting functions, and use multiple specialized software at the same time. As a result, productivity declined and was a source of concern.
Aegro Farm Management SaaS
Through Firm Management Saas (FMS), Aegro offers two types of software, one for large production and revenue management. In terms of production, we centrally manage past production data. Deep-ins include features such as planting plans and crop management. In terms of revenue management, we also incorporate APIs to aggregate data such as finance and accounting, credit, and insurance.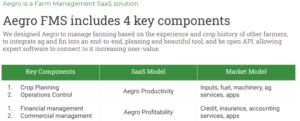 Aegro Firm Management Saas Overview
Aegro's Positioning
They have been trying to differentiate ourselves from the time we founded our business development and sales capabilities by utilizing Aegro's unique technologies. As shown in the table below, FMS in Brazil has unparalleled mobility and networking.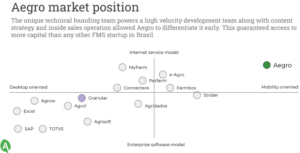 Aegro FMS Positioning Map
Aegro in Numbers
Since its establishment in 2014, Aegro has been steadily expanding its business, but it is notable that it is cost-effective. The session showed high profitability for US$2M spending. As summarized in the table below, the total area of the subscription is 3.2M acres (the average farm size is 3,920 acres), monthly income from per customer is US100$, and the customer acquisition cost (CAC) is US$733 and the collection period is approximately 8 months. Its customer lifetime value (CLV) is US$2,671. In terms of per-customer sales, initiatives such as pricing reviews and cross-selling have contributed to the increase to around US$130, which is nearly twice as high as the same period a year ago, as of August 2019. As of July 2019, the number of freemium users has reached approximately 30,000, and the number of paid users has gradually increased. In terms of farm area, the percentage of paid is more than 30% at the same time.
In addition, the FMS in terms of agricultural production management were surprised by the fact that between January 2017 and July 2019, the number of freemium users increased by 11% per month, and this was the result of no marketing promotion. It is a sign of Aegro's strong need for FMS from small and medium-sized farmers. On the other hand, fms in financial management seemto have seen a 4.5-fold increase in usage in the past two years. There seems to be a background that the deficit problem of each farmer who uses it is remarkable, and an early measure is necessary.

Aegro in numbers
Strengths of Sales Marketing
Aegro takes a rock for internet search. Working with outstanding master's and doctoral students from each university in Brazil, Aegro appears in the top 10 with more than 100 keywords related to "agribusiness" in Google Search. In July 2019, the number of monthly websitevisits exceeded 100,000. In the sales department, a total of nine employees conduct efficient sales activities based on funnel theory.
Conclusion
Brazil is one of the world's leading agricultural powers. There were not only large-scale farmers, but also a large number of small and medium-sized farmers, but the traditional agricultural business was mainly aimed at large scale. Aegro focused on the more realistic challenges of agriculture and built its own positioning while leveraging its technical capabilities and sales capabilities. Agriculture has been complex, man-made, and long-term efforts have been essential, with three areas of interaction: networking, market and operationmanagement. As
Mr. Hamada of Agri Information Design
, said, it is expected that startups in each field of Agritech will work together to realize more and more cost-effective agriculture.
Mr. Dusso's Background
He holds a master's degree in computer science from Kaiserslautern Institute of Technology in Germany. As an entrepreneur and co-founder of Agritech, he is currently CEO of Aegro. From small family farms to large rural businesses, he is committed to improving the functionality of agriculture.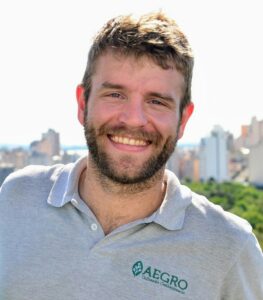 Thank you very much for your thought-provoking and valuable lecture!