In the forum review vol.1, we took up the whole picture of the forum and opening remarks by Brazil Venture Capital. After vol.2, we will deliver all 18 sessions in a series. This time, we would like to introduce a session of "Venture Capital in Japan" by Mr. Mauricio Omura of Cyber Agent Capital.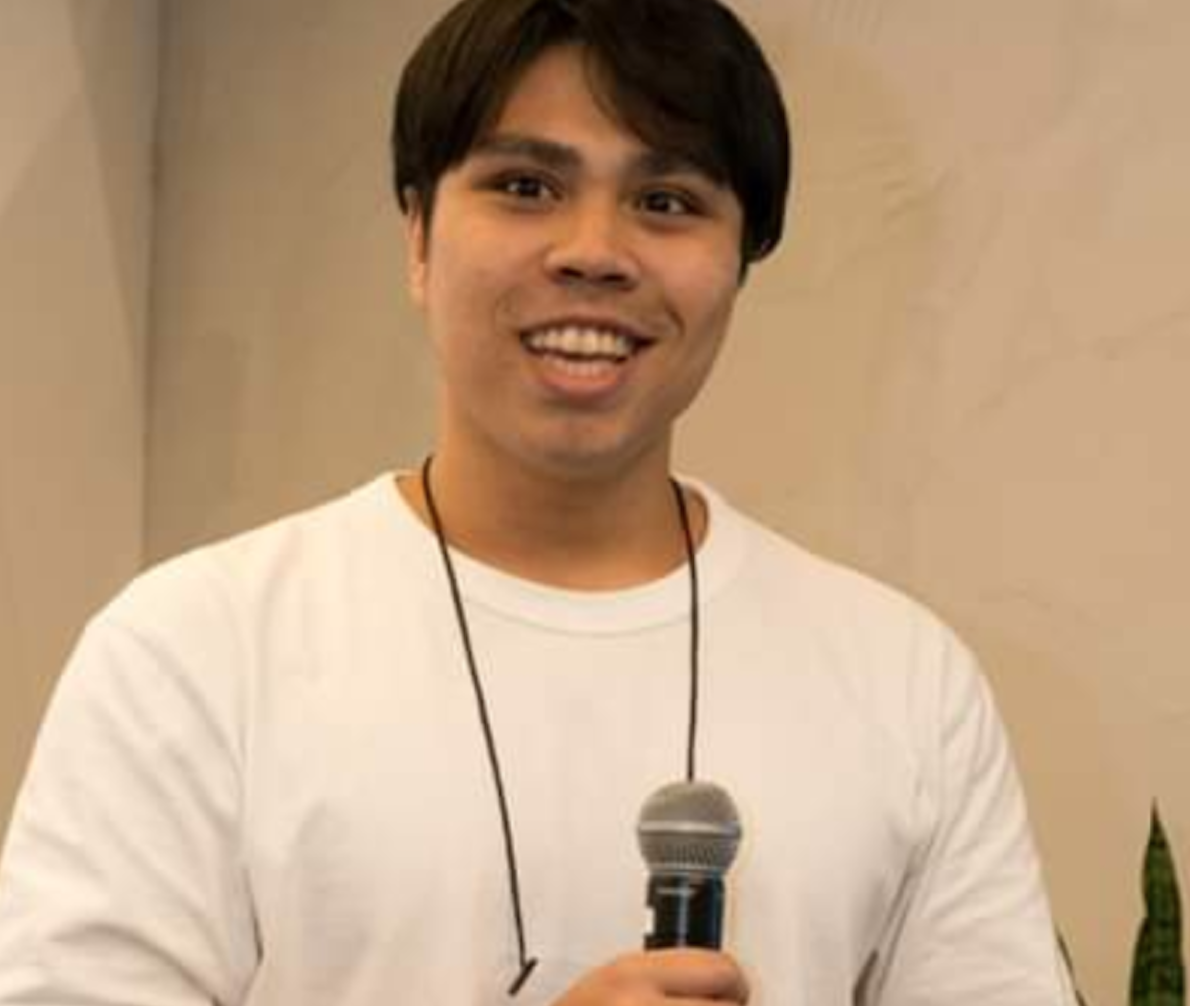 Cyber Agent Capital – Mr. Mauricio Omura
Session Summary
In the session of Mr. Ide of DG Ventures, which we discussed the other day, I introduced "Venture Capital in Japan". We also invited guests from CyberAgent Capital, which has established an investment style that specializes in the Internet industry, taking a part in the Japanese venture capital industry and taking advantage of the strengths of its parent company. Mr. Mauricio Omura, who is originally from Brazil and is deeply familiar with both businesses, talked about the company's investment policies and competitive advantage.
Company Profile
CyberAgent Capital was founded in 2006. It is the only cyberagent group engaged in venture capital business. They invest in a venture company that is highly active in the Internet-related business, led by entrepreneurs who excel in management leadership, who can pursue global expansion together. The group as a whole had approximately US$4.1B in sales in fiscal 2018 and operating income of US$300M. CyberAgent Capital has funds in Japan and Asia with a total of approximately US$120M.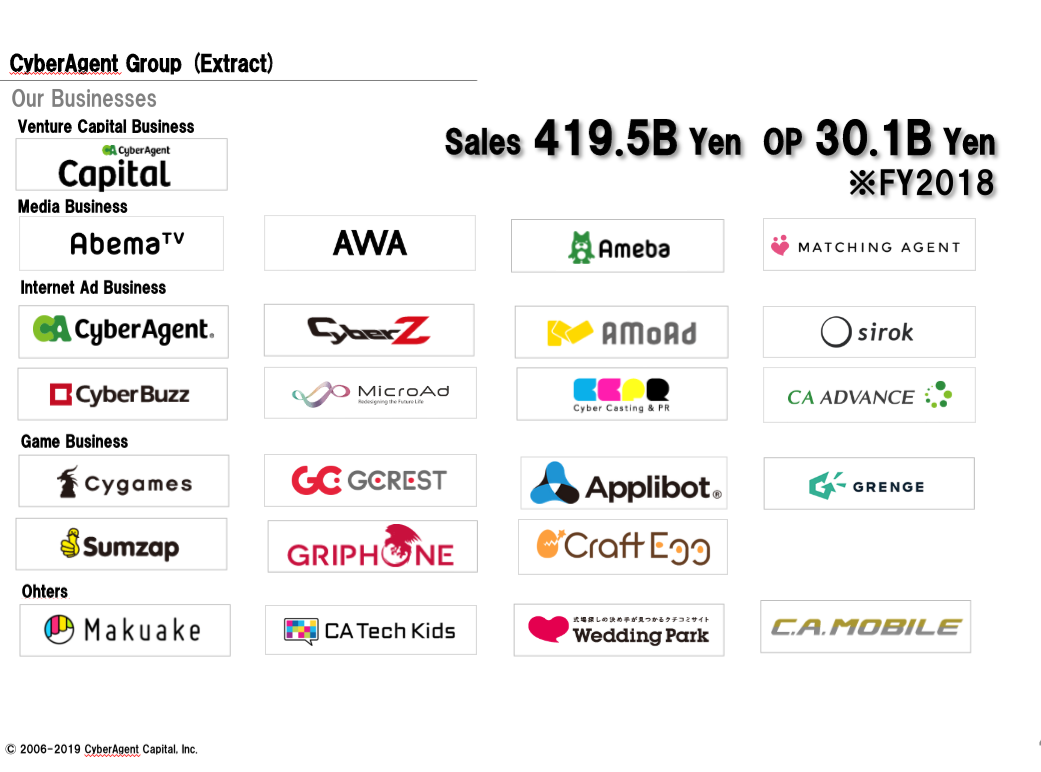 Relation in CyberAgebt Group
CyberAgent Capital's Three Cores
(1) Specialized in Internet business
Their first strength is highly specialized incubation, which specializes in internet business in the area of investment and support. We are driving the growth of our business quickly and steadily in the rapidly changing Internet industry. Specifically, the following elements are included;
Supporting from basic strategies to UI/UX, thorough user-based service development
Customizing marketing on each service characteristic and growth stage
Sharing the latest trends in your Internet business, including the latest internet services and user trends
Providing the know-how of the CyberAgent Group's business and organization building, which has created a number of Internet businesses
(2) Hands-on support from the start-up stage to the early stage
They are committed as an entrepreneurial partner in launching a business from seed stage and accelerating our business in the early stages. As the examples of the initiatives below show, we provide support and investment not only for venture companies after the company founding, but also at the stage of preparation for the establishment of the company.
Providing know-how directly linked to business success, including business planning, management strategy, and marketing
Recruiting and recruiting promising people for your team
Supporting for global expansion in Asia, North America, etc.
Supporting for partnerships with major operating companies and promising venture companies
Funding support after the next round
Supporting structure in CyberAgent Capital(from corporate website)
(3) Global network with 10 locations in eight countries
With offices in 10 cities in eight countries, mainly in Asia, which is rapidly growing rapidly, we will accelerate the global expansion of investees as shown in the following examples.
– Investing in emerging countries at the potential market stage (localization of advanced cases between Japan and the United States)
– Supporting for mutual expansion into markets in each country
– Coordinating for service alliances with excellent local companies in each country
– Sharing the latest market trends in Asia
Examples of Investees
As investment examples of CyberAgent Capital, he introduced 24 and 10 exit results in Japan and Asia, respectively. In addition, the four IPOs in 2019 were as follows:
sansan: Plan, develop and sell cloud business card management services (the market capitalization at the time of listing is estimated AT US$1.6B). The founder, Terada, is from Keio University SFC (Shonan Fujisawa Campus), and SFC produces a large number of entrepreneurs. Mr. Terada founded Sansan Co., Ltd. in 07 after working at Mitsui & Co. The focus of "business cards" is that, despite the tools that everyone uses, there has been no established management method for both individuals and organizations. https://biz-journal.jp/2019/08/post_112896_2.html.
BASE: Founded in 2012, we are involved in the development of e-commerce platforms. The market capitalization at the time of listing was estimated at US$310M. BASE announced that it had opened more than 800,000 shops in August 2019, with sales in fiscal 2018 of approximately US$23M and recurring losses of US$7M from https://jp.techcrunch.com/2019/09/20/base-ipo/
SPACEMARKET: By changing the common sense of the real estate industry, where buying, renting, and weekly was a common form of operation, to be available on an hourly basis, we monetize various idle spaces such as private homes, companies, public spaces, restaurants, temples, and other temples. We are expanding our business in partnership with Tokyo Building, Tokyo Metro, Watanabe Entertainment, and others. The market capitalization at the time of listing is estimated to be US$179M, and the 2018 financial results were approximately US$5.7M in sales and US2.6M in operating loss (https://jp.techcrunch.com/2019/12/2 0/spacemarket-is-listed-on-the-tse-mothers-market/?guccounter=1&guce_referrer_us=aHR0cHM6Ly93d3cuZ29vZ2xlLmNvbS8&guce_referrer_cs=6f9gmka42qTd_XvKG6EWVQ).
fangDD: O2O real estate platform from Shenzhen, China. Unlike models where platforms such as SouFun and Anjuke charge listing fees, the company has a successful compensation system. Today, it works with more than 100,000 brokers, has offices in more than 30 cities and employs approximately 2,500 people. In the first half of 2014, transactions worth US$8B were mediated. The cumulative funding amount is us$312.1M at https://www.crunchbase.com/organization/fangdd#section-overview.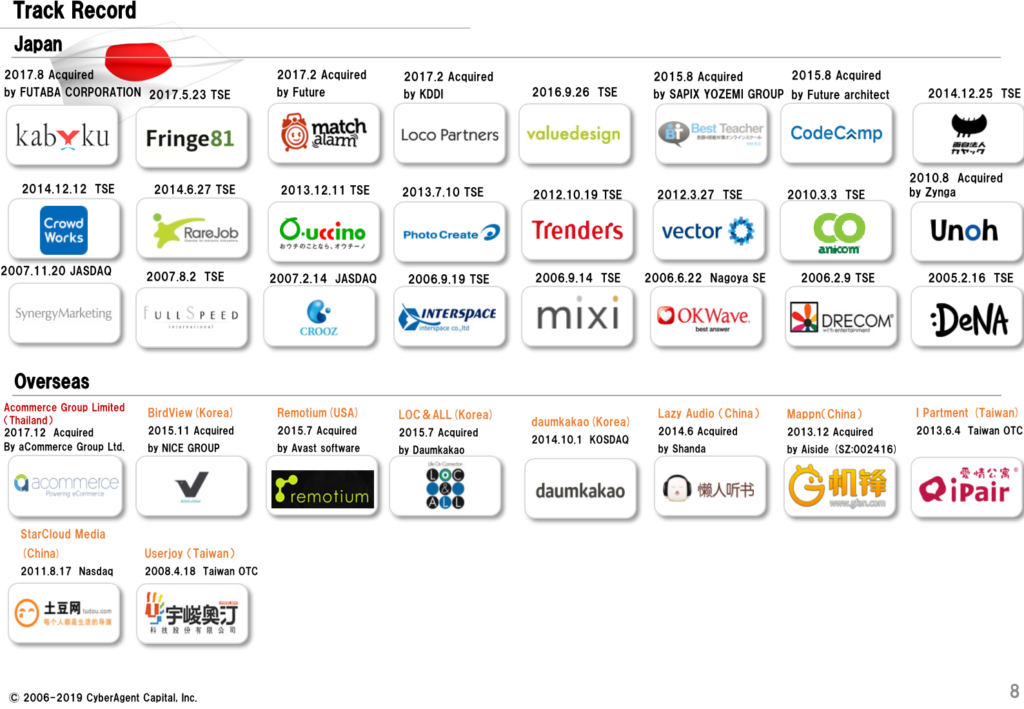 Examples of exits
Learning from CyberAgent Capital's Session
CyberAgent Capital will also focus on providing "opportunities" in addition to investing and business support, including holding matching events for startup financing and business alliances. With japan's venture capital industry likely to boom more and more in the future, it will be key to hone its value as an infrastructure in order to garner support from startups. In addition, the company's "specialized investment in specialized fields enables more hands-on business support" as a hint to the venture capital business.
Introduction of Mr. Omura
In April 2018, he joined CyberAgent and worked in the Marketing Group of AbemaTV Advertising Division to analyze advertising value. Joined CyberAgent Capital in January 2019. Graduated from Keio University, Faculty of Commerce.
As a venture capitalist, we will strive as a venture capitalist with the goal of "enriching people's lives through the support of new products and services" and "supporting people who challenge with passion and ambition as kuroko." Although he is immature, he is trusted by entrepreneurs and aims to be recognized as a friend, so thank you very much. It has been commented (from the company's website).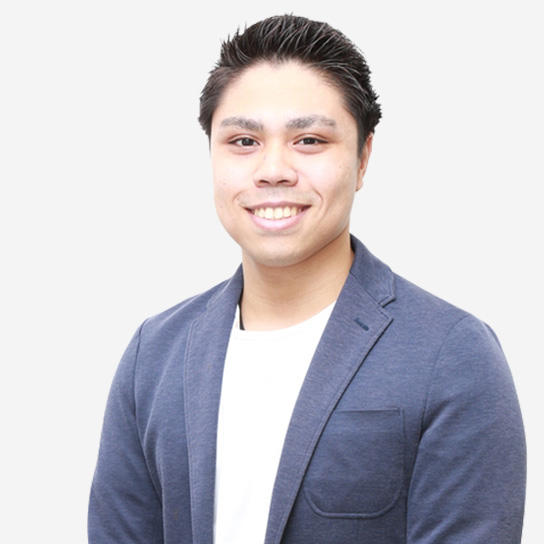 Thank you for the insightful presentation!